Lightwrite festival de Lightgraff à Berlin Octobre 2009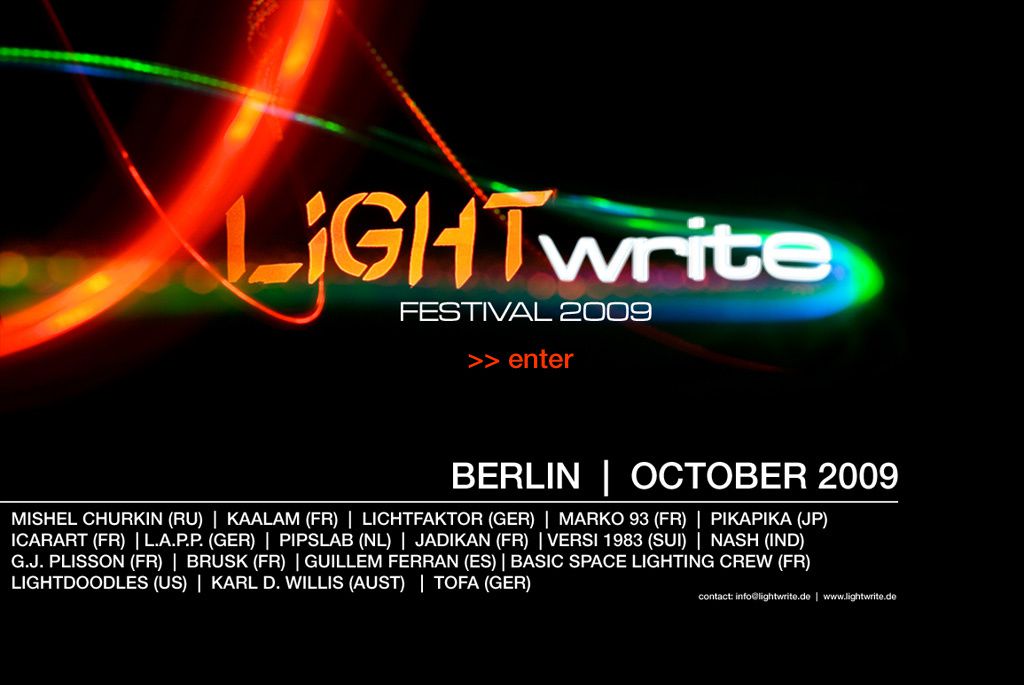 Voici une nouvelle toute fraîche,
à Berlin en octobre 2009,
aura lieu le premier festival de lightgraff, space-writing, lightwriting...
participants Kaalam , Marko 93, et bien d'autres artistes dont moi-même , et de tous les pays, expositions, performances pendant plusieurs semaines.
Que du bon!
KAALAM (FR) | KARL D. WILLIS (AUSTR) | L.A.P.P. (GER) | LIGHTDOODLES (USA) | LICHTFAKTOR (GER) | NASH (IND) | MARKO93 (FR) | TOFA (GER) | PIKAPIKA (JP) | PIPSLAB (NL)
Whoever checked longtime exposure on cameras already knows the basics of lightwriting. Picasso already worked out this technique in his way. It´s a simple but efficient photo- and animation-technique, which developed extremly within the passed decade.
Darklight is the first international lightwriting festival, paying tribute to this virtual graffiti and urban space art . It´s our goal to invite the most outstanding artists of this genre to Berlin for one week to hold workshops, jam-sessions and to organize an exhibition for the public.
With the Darklight Festival we want to achieve new collaborations of experts, who know eachother only from the web, and give a support to this movement.
The vernissage of the exhibition is the final highlight of the festival and will open an exhibition which dures another three weeks open to the public. We have the offical OK of two locations and the feedback of participants from France, Japan, Netherlands, Russia, India, Australia, England and Germany and so far this festival is planned and organized complimentary by Tofa from Berlin.
We would like to use the award of the evolution2 contests for paying travelcosts, workshopmaterials, exhibition-organization and -realisation and equipment-rent. You can take part in the festival on workshops, specials and/or visit the exhibition Darklight a bit later to see the festivals result.
Within the exhibition you´ll find photoseries, videoinstallations and interactive art. The festival will take place in autumn 2009 and would be a perfect extension to Berlins cultural programm.
Plus d'info: ( encore en construction pour le moment)
http://www.lightwrite.de/
Vous souhaitez participez au festival?
envoyez un email à cette adresse :
info@lightwriting.de
en anglais!!
1) Participation request


I would like to participate in the festival. Is this still possible?



Click

here to view selected artists.


In general, we are always interested in new faces. Send us an email, introduce yourself and don´t forget links to your works. Simply click left on the contact button.

2) Proposal
You have an outstanding idea/proposal for the festival?




Contact us via email and tell us what you have in mind. Maybe it still fits in our plans.
We get back to you with an answer regarding your proposal.
email to: info@lightwriting.de

3) Program?
Is there an existing timetable for the festivals program?




The full program will be untill march announced, check in from while to while to be up to date.

4) Who to ask?
None of the questions fits to my needs. Who can I ask?




Contact us via email and try to describe exactly what you want. We will get back to you.
email to: info@lightwriting.de